Level Up – NetSolutions Learning Portal
What is Level Up
NetSolutions Level Up is a training tool designed by our experienced implementation and support group to aid in on-boarding and retraining your staff on all NetSolutions modules.  The course content is being rolled out in 2021, look for full content by early 2022!  During sign-up, users will select their role(s) and upon logging in will find the courses applicable to that role.  They can then start lessons, complete quizzes, and ace courses!
---
Creating a Level Up Account
1. Navigate to https://levelup.experience.care/
2. In the upper right-hand corner select the Sign Up button
3. Fill in your name, email, password and click Continue
4. Enter your facility name and number and select your role (you can select more than one), accept the terms of service, click Register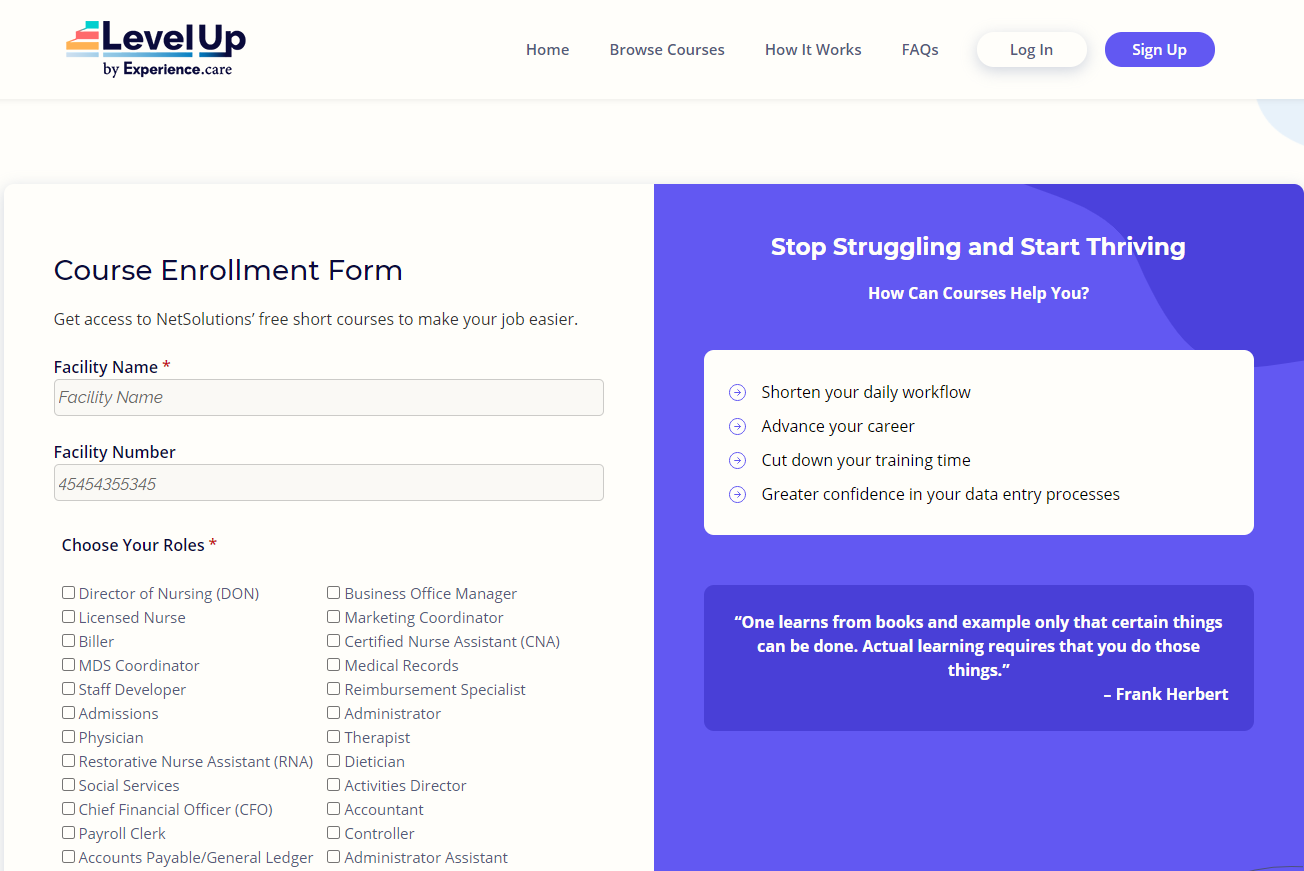 5. You will be sent an email, use the link in the email to verify your Level Up credentials (if the email doesn't arrive in 15 minutes, check your Spam folder).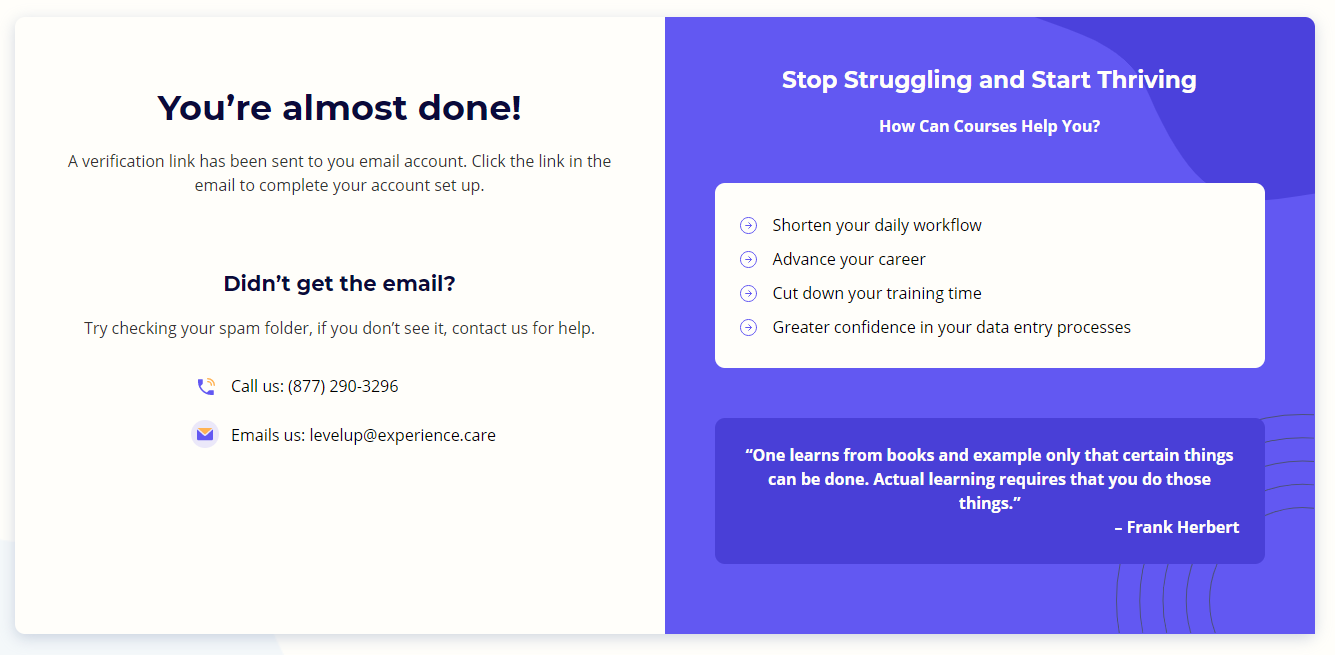 Taking a Course and Viewing Your Progress
1. When you first log in, you are taken to the My Courses page which displays all courses assigned to your role(s). You can click Start This Course and continue through the lessons and quizzes then take the final exam for your course certificate!
2. When you start a course, you'll see the course introduction. Scroll to the bottom to take the first lesson.
3. Each lesson has a video walkthrough at the top as well as an in-depth explanation below if you prefer to learn by reading instead of watching.
4. Once you've reviewed the lesson you can take the Quiz at the bottom of the screen. 80% is a passing grade. Once you've passed the quiz you can          continue on to the next lesson.

5. To view your progress you can click the Dashboard tab along the top of the screen to view your courses and progress.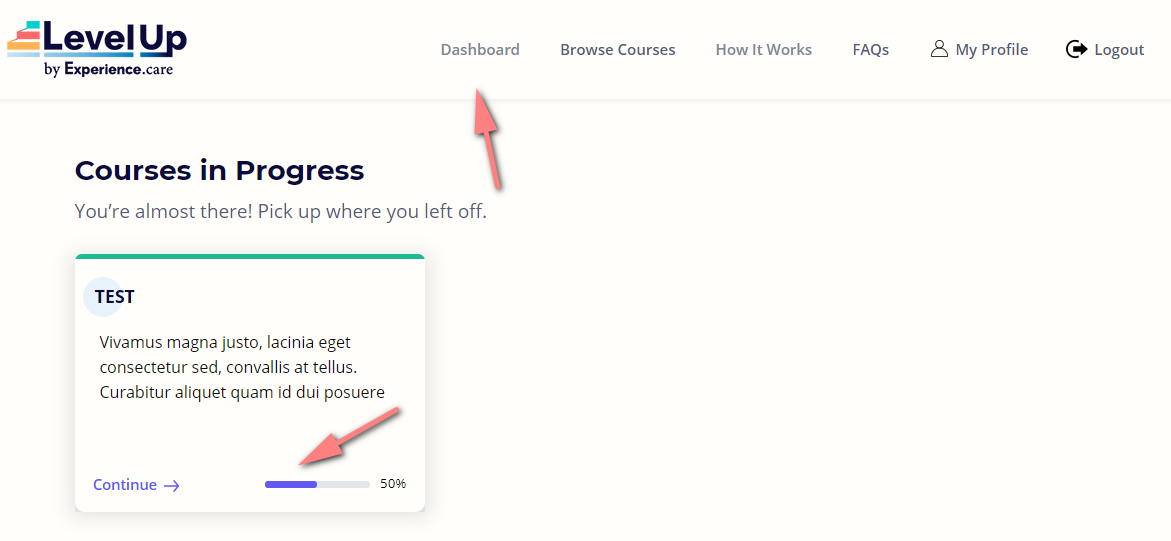 6. You can always click the How it Works or FAQs tabs to better familiarize yourself with the Level Up course system.
7. Once you've passed the quiz for the last lesson in a course, you will automatically be taken to the Final Exam of that course. Get a passing grade of        80% or higher to earn your course certificate!
8. The course will then show on your Dashboard under My Completed Courses. You can always retake a course as a refresher any time.